This true story that took place about 6 or 7 years ago when Enrique and I used to live together, and my soon to be ex-wife used to date. We had a get together with a few friends over to get drunk and play cards and just chill out with. It was a long night we usually drink from 8:00 p.m. to about 5:00 a.m. in the morning and usually we all get liquored up with beer, rhum or cocktails. The people who came over were my SIL, my friend Eric, his girlfriend Katie, my brother's friend Ricky, his wife Debra and his boy Jonathan. So there was me and my wife and all of the other people in the house, meaning my boy Enrique and his girlfriend Monique (I did get to fuck and worship her sleepy feet a couple of times also, but this is for another time).
As the night progressed, we played cards talked a lot. We were all pretty much feeling the affects of good ole' Appleton and barbencourt and having a good time. I was staring at my SIL feet all night. She was wearing socks which was a bummer at the time. Later on, Eric, Katie, Ricky and Debra took their leave home, which was a bummer because Katie and Debra had some great looking feet also. I was pretty much done for after 6 beers, my 5th glass of Appleton and my 4th shot of barbencourt and so was my wife. She went to the bedroom to go to bed and left me with Ricky, her sister, Enrique n Monique. Ricky was feeding my SIL to get her drunk so that he could make out with her. We were really loud and Wifey complained about the noise, so we moved to the spare room which had a bed and a t.v and we hung out some more. I had Ricky on check and when I saw that my SIL was getting 2 fucked up I stopped him and told him to go, because it was getting late, and we was gonna call it a night…..after all it was 3.30am!! He said ok and I walked him out.
When I came back, my SIL was passed out on the bed. Enrique and Debra went to watch TV in the living room, but really they were dozing off.
Finally they decided to retreat to their bedroom, and they shut off all of the lights upon entering it. I waited to hear if they were asleep. After I heard silence, I closed the door, turned off the TV and crawled on the floor to the foot of the bed where SIL was sleeping. She was lying on her stomach. To see if she was really asleep, I poked her a couple of times to see if she would move. Then I poked harder and nothing happened.
I was in heaven. She had taken socks off and put them in her sneakers;
URL=http://img138.imagevenue....ldrunk_0005_122_1lo.jpg]
[/URL]

I had to feel her bare soles. But before, I took my video camera out because I had to immortalize that moment. I started to feel her feet with my hands. They were so damn smooth!! Then I started to smell her feet and they smelt SO DAMN GOOD, so I started to suck her toes starting from her big toe to her little toe. Then I couldn't take it anymore. I pulled my cock out of my pants, and started to rub it around the arch of her right sole to her heel and then along her toes.



That sent me to a trance and I thought I was gonna cum on the spot when I heard my wife calling me from the living room, and then I heard the bedroom door opened. I managed to put my hard cock away and froze. At that precise moment, I thought, "FUCK ! I'm busted" . She looked at me puzzled and asked what I was doing at her sister's feet. I just said that I was cleaning the room because we'd hung out there, and I just happened to be at her feet, that was all. She didn't buy it, but she was too tired to care. She just asked me to carry her sis to our room. I obliged and my drunk ass carried my SIL drunkier sleepy ass to my bedroom. I put her over my shoulder with her toes landing right on my crotch. My dick should have been limp because of how much I drank, but not on this occasion. My cock was throbbing and I'm glad wifey didn't noticed.
Once in the bedroom, I dropped her on the bed under the covers. I told my wife that I would sleep at the foot of the bed on the carpet. She shrugged and said whatever… so I took my spot. Now both sisters were sleeping on the bed. I waited for my wife to fall asleep and it took about an hour! When I heard snoring I decided to make my move. I was already hard with anticipation as I slowly reached under the covers to touch SIL feet. They were so warm and so very soft that I almost CUM on the spot, AGAIN!!! I couldn't take it anymore, so I put her right sock on my cock and started to stroke away while I was smelling her left sock. However, I had to see her feet and not just feel them. I then decided that was enough of the socks for the moment and put them on the side. Then I untucked the cover as to reveal the object of my desire and here they were. I just went nuts and lost it… I had to feel her feet, and decided to put my cock right on her left foot because it was over the right one. I spread her toes and tried to put my cock in between her big toe and her toe next to that one. My SIL got this habit of shaking her feet, whether she awake or asleep and thus she did. I felt pre cum oozing as she did and I was biting my lips now to scream with pleasure…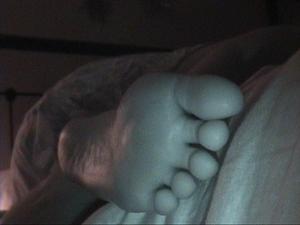 She then moved and I ducked under the bed. I waited a few seconds and she was still shaking her foot. I really got scared and thus played it safe by returning to sock business. I started to masturbate with her sox on my cock. After pumping probably 10 quick times, I came and came like a horse! I let it out and screamed loud but the girls didn't wake up. I began to get dizzy and shake as I looked at my SIL sleepy feet. I just cleaned myself up, and replaced the cover back neatly over them and then sat back on the floor. Before I fell asleep, I returned the sox in her shoe.
When everybody woke up, we hung out for a little while. Then my SIL decided to put her shoe back on because she was going home. As she put her sox on she stopped and looked puzzle. "why the hell is my sock so wet??" she yelled. When nobody paid her any mind she just carried on and didn't say anything and never mention it again.
Thank you