As a huge fan of this 9 girl Korean pop group, I've been around and about attaining a large collection of their feet. And their feet are really something to go gaga about. I've collected these pictures from Korean foot fetish websites and as well as random google searches. So I'd like to introduce you to this sexy girl group for all of us to enjoy in the west. I'll start off with photos of them as a group, as well as individual pictures of the members. Not all members have feet photos.
Also look through this thread to find more KPOP group pictures ranging from KARA to Wondergirls to After School. I haven't had the time to organize everything into this first point yet. Eventually I will start adding Korean actresses feet and soles. So keep posted!
"Let's strip these straps off, girls."


Group Photos
Yuri
Considered as one of the hottest members in the group, her soles are fairly large and pack a lot more sexiness inside of them.
Taeyeon
The leader of the group, one of the shortest, which also leads to her small feet too! Still, small and dainty and some of us love that!
Sooyoung
The tallest member of the group also packs some good looking soles!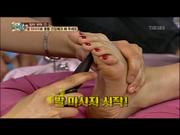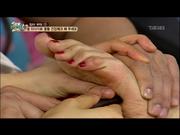 Yoona
Considered best overall looking, her toes are as well ;)
Tiffany
Known for her perfect ratio for her legs, are her feet just as perfect?
Seohyun
My favorite member of the group.
Sunny
Considered as the "baby/cute" girl, her feet live up to that standard too. ;)
Jessica
In my opinion, the best looking girl. However, her feet are the hardest to find.

SNSD Photobook: