into the top 40 now

40) Melissa - FootTime.com - It was these soles, and these alone, that persuaded me to purchase membership to FootTime.com a few years back, and when i did so, i was not disappointed!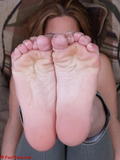 39) Croma - BFGCroma.com - Basically, a mad, eccentric european girl with big, sexy soles, i don't think it needs any more explanation!


38) Cindy - DivaLand.com - Here in the U.K it's still quite hard to find girls enthusiastic about showing their feet off to everyone, but Cindy has been doing just that, right from the beginning, and I for one am glad cuz her soles are just incredible.


37) Sonya - NoemisWorld.com - Some of the most 'lickable' soles i have ever come across in all my years of looking.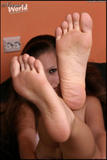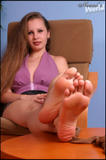 36) Lynn - $$+$#*$!% - I'd imagine some of you might be wondering why this girl is so high up. Well it's because a year or two ago, a picture came out on this very board with Christina Aguilera showing what appeared to be her own, fantastic soft sole right up to the camera. We all thought it was too good to be true, and that's because it was. The sole actually belonged to this foot model from Germany. But the disappointment in knowing these soles aren't Christinas doesn't detract from the fact the soles on show were AMAZING!


35) Jame - Flirt4Free.com - This one is 'off the beaten track' a bit I know, she works as a webcam model on a NON-fetish cam site, and because of this elusiveness, I only have one picture of her (which is dreadfully watermarked). But, and this is a BIG but! This girl has a pair of feet that stand up to pretty much every other foot model in the business, the lucky few that have stumbled across this beauty have been rewarded with some mind-blowing foot shows. She has great soles, and is not shy about showing them off!


34) Syn Paige - In a list of forgotten gems and great mainstays, Syn Paige is an instant classic, no sooner had her pictures been posted on this forum, than she receieved a quite big and enthusiastic fan base, including me.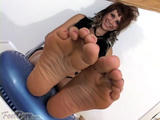 33) Sophia - PhillyFootWorship.com - A beautiful girl, with beautiful soles, who likes to show them off, and have them worshipped. Perfect!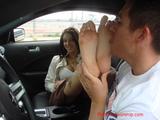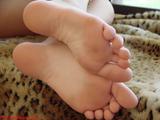 32) Bellecita - Bellecita.com - A true fan favourite, I am willing to bet that this girl is every foot fetishists first ever obsession!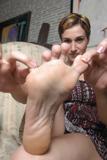 31) Kristina Fey - CuteGirlFeet.com - The reason I gave for Melissa from FootTime.com being so high up this countdown, also applies here. a pair of soles worth getting into credit card debt for! ;-)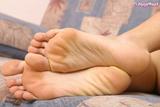 30) Jill Marie - NorCalFeet.com - The man at NorCalFeet.com certainly knows how to pick a sexy pair of soles, and here i think is the pick of the bunch.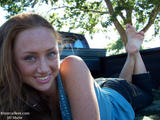 29) Monique - LexisFootFetish.com / Feetishes.com - this statement may confirm my weirdness, but, anybody that saw the video of her soles being licked by her dog, and didnt melt in ecstacy, is NOT human. FACT!




28) Aleksandra - CaliforniaBeachFeet.com - I grant you, probably not the most well taken care of feet in the world, but, not many pairs of soles have ever made me want to just bury my face within and inhale through my nose until my lungs just collapse, more than the ones on this girl.




27) Natalie - GirlsCuteFeet.com - Where other girls have soles you just want to do things to, this girl has a pair you could actually sit back and just admire, just before doing things to them!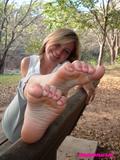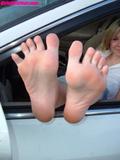 26) Dionne - UK 'BabeTV' Model - Dionne is a late twenties - earliy thirties girl who stars on a program here in England called 'BabeCast' and has done for a number of years. For those who don't know, Babecast is a show where people text in and ask the models to do things like, well, show tits, ass, whatever it may be. Basically, if a text %%*@!@% comes in for feet or soles to be shown, even for a second, it can be greeted by some of the girls with some amount of bafflement and sometimes mild ridicule. But not by this girl, Dionne has her soles right in your FACE before she's even finished reading the text out, jamming her beautiful toes and soles in your face and telling you to lick the smell out from her toes at the TOP of her voice, all the while her colleagues are busy indulging other viewers in more conventional pleasures like tits and ass that one could acquire anywhere and at any time. Truly an absolute star, who knows the power her immensely sexy soles have over us, and loves to wield it!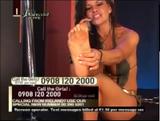 25) Essex Cherry - UK 'House Of Fun TV' Model - A girl in the same line of work as the previous girl Dionne, with an identical attitude towards foot fetishism and equally sexy feet and soles. The reason Cherry is above Dionne, is only because when Dionne is asked to show feet, it seems that if Dionne is wearing a particularly difficult piece of footwear to remove, she might, once in a little while, say no. Cherry, on the other hand, could be wearing fuckin chastity boots and she'd whip them off for ya! revealing what is, some of the most mouth-watering soles you'l ever see. If you don't take that into account, they're virtually inseperably beautiful to me.




24) June - CoedFeet.com - It takes a pretty special pair of soles to stand out on a site with so many great pairs of feet on offer. And in my opinion, Junes soles do that with no problem.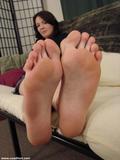 23) Pepper - TheCollegeFoot.com - I love a pair of beautiful, natural female soles in blue jeans. This girl knows what i like!




22) Charli Robinson - Austrailian Childrens TV Presenter (Hi-5) - For anyone wondering, I'd say THIS is the point where it gets down to the real nitty gritty, from here on in, we have only the proper, TOP GRADE soles in the world. Starting with a bonkers girl who sings songs about wiggling her toes. Fuck it she could write operas and acedemic thesis on them for all i care, as long as she shows them off, because my god! they are incredible, no red-blooded foot-fetishist can resist their charms. SURELY!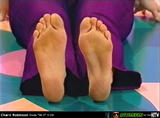 21) Casey - CaseysCam.com - A girl who as far as i know, runs a webcam site, and likes to show her feet off quite a bit. Which is good, because her feet are great, her soles are sexy, and they make me stiff. That is all!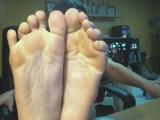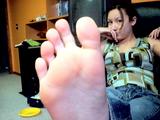 Coming in a few hours i'l have numbers 20 - 11, and then some time tomorrow before i follow the masses in getting drunk beyond reasonable comprehension, i'l do my top ten!

thanks again!

luvsabre